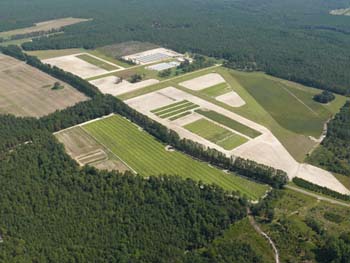 Cross Creek Seed officially came to being in 2001.  However, our history with tobacco and tobacco seed goes back significantly further.
Unlike so many other companies, Cross Creek Seed was founded by an actual tobacco farmer, Eddie Baker.  It is from that base and perspective that Cross Creek Seed began.  After farming tobacco for decades, in 1981 Eddie was contracted to produce tobacco seed for Northup King through his farming operation, Cross Creek Farms.  That contract was for the very first crop of K 326-which Cross Creek Seed has been growing ever since.  Continued success in that initial venture created additional opportunities to produce tobacco seed for Novartis, Syngenta, and Gold Leaf Seed Co.  Eddie later expanded the services offered and founded Cross Creek Coating, in order to offer seed pelleting services to his seed customers.
During his time producing seed, Eddie developed a fascination with plant breeding.  While working with some of the true greats of tobacco breeding-including Bill Early, the most widely acclaimed tobacco breeder in the last century and father of modern tobacco breeding-Eddie begin a tobacco breeding program of his own.  After careful consideration, a decision was made to discontinue producing seed for other seed companies and Cross Creek Seed was born.  Believing packaging and distribution were the easy part of being a seed company, Cross Creek Seed began selling the seed it produced under its own label.
Today Cross Creek Seed, has emerged as one of the premiere tobacco seed companies in the world.  Its facilities have grown to include over 375 acres of tobacco production and tobacco breeding; climate controlled breeding greenhouses; full service seed cleaning, treatment pelleting, and storage facilities; commercial tobacco transplant production; and greenhouse tray sterilization. Moreover, the breeding program at Cross Creek Seed is one of the largest in the world, working in conjunction with many of the world's largest tobacco companies, enabling Cross Creek Seed to provide some of the most profitable, high quality tobacco seed around the globe, with active sales in more than 32 countries and on every habitable continent.
Cross Creek Seed is proud to represent itself as a full service tobacco seed company which is able to breed, produce, treat, pellet, package and sale seed all from Cross Creek Seed's facilities located in Raeford, North Carolina.  No other tobacco seed company in the US can make that claim.
Please feel free to contact Cross Creek Seed if you would like to view our production, treatment, storage, or pelleting facilities.  We also welcome visitors to view our greenhouse transplant production and support facilities.
From our field to yours is not simply a catch phrase for Cross Creek Seed; it is a reality.